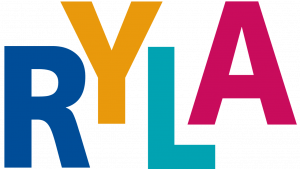 "When you are curious, you find lots of interesting things to do" I read once for Walt Disney.
The fact of having this feeling inside you that never gives you the chance to come over it, and that keeps on asking you "why? How? When? Where? whom?"; is something life and experiences will always surprise you for, having that kind of voices inside me is the main reason that brought me to Italy at first place, but the funny part is that even after living here for a quite long period I still hear those voices in me.
I arrived to Italy not knowing many huge important things about everything, and I will certainly leave taking lots of those things with me maybe more than what I expected. One of the surprises my experience in Italy showed me is something called "Rotary International" through a wonderful, rich and affluent supper loaded series of lectures, training session, tours and activities in very varied diverse environments that I have never had the chance to present myself in.
"RYLA: Fai la Differenza" Rotary Youth Leadership Awards camp, was more than a normal international club activity for me, because I had the chance to be enrolled in this experience being a part of an other international project, which is being a volunteer for the European Voluntary Services under Erasmus+ Mobility projects with Avis Regionale Lombardia. What I am trying to uncover here is that when you get to follow you instinct for an adventure; and hold the intention that there will be marvellous surprises as never expected; you will end up exactly finding yourself within something special, inspiring and humane. That is how I see my RYLA Experience:
Special because it was one of the unforgettable experiences, which surprised me in the place and the time in which I did not expect to have it in.
Inspiring because I had the chance to meet some people whom have left a mark on my soul, be it for the jobs they do, the passion they have for their missions, or the excitement you see in their eyes while talking about why they have followed such a path
Humane because of all of the social, non-Profit and noble projects presented during the whole experience, either by young participants in RYLA camp or former members of the Rotary International Club in Milan.
The RYLA experience might look normal to many of you who will be reading this, but it was never like that for me, it is one of the experiences that will make me proud of having them during my EVS project in Italy,the RYLA camp was mainly revolving around on main Theme "Leadership" which is something I see in every single role in one's life.
As a small town girl for the mid-west of Morocco, with this crazy, obsessed strong willingness, to travel, to learn, discover and meet people, I would say that the RYLA camp experience has given me a chance to irrigate my thirst a bit, and it allowed me to learn and earn.
I am the kind of people, who always believed that everything happens for a reason.That is why I do not look at my EVS being in Italy as a coincidence, neither my volunteering work in Avis Regionale Lombardia was, as well as my participation in RYLA week. I believe the aspects, the people, Leadership skills dimensions, the input, and all the new references I discovered within RYLA camp; are for a reason that would certainly change something crucial in my life.
I wish I could write all of this in Italian, but I am not very sure if my humble Italian will exteriorise all of the good feeling I have for my experience with "Rotary International in Milan" during the RYLA camp the exact way I feel them. So thank you very much for the opportunity you offered me to have an inside look to your missions.
SAIDA BEN-DRIOUICH
The Moroccan-Amazigh Girl